Mangus Chase and the Gods of Asgard
This is not a book review. I repeat, this is not a book review!
I just have a few thought floating around in my head right now that I want to talk to you guys about. (btw this whole post might be really incoherent so just bear with me XD )
So I was goodreads-surfing when I noticed that what I thought was going to be a new short story by Rick Riordan about the Norse gods was actually going to be a whole book with a whole series. I sorta went like this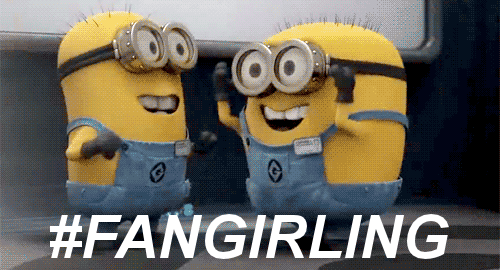 Rick Riordan is one of my all-time favorite authors. He wrote the books that got me so into reading YA/middle grade, mythology (especially greek), and basically sent me in a spiral of imagination for YEARS! Thank you so much uncle Rick, you are legend! Percy Jackson and the Olympians is a series I will read over and over again with no problems about it whatsoever :)
Also, just look at this cover! *-*
I only have one concern - aside from not having read the Blood of Olympus yet (oh my gosh so much shame on me I can't believe it!), making me wanting to wait until I read his next book, I'm just kind of worried about something - that the two worlds will be way too similar and will overlap strangely. Now I have nothing against there being PJ references in MC, but I'm more worried about the aspect of 'gods having more than one side'. What I mean is that in The Heroes of Olympus, the gods are presented as having a greek side and a roman side, each distinct yet attributed to the same 'person'. I'm worried about a third layer being added. So now Poseidon would be Poseidon, Neptune, and AEgir? I hope not... /:
Also, for some reason, I feel like I should be more excited about this book than I am right now. Each time a new PJ-related book came out I was ECSTATIC! (Even though I haven't read blood of olympus yet... :[ ) And now I'm really happy, but I feel that this whole new series might be too much like the ones presented in PJ&tO and HoO, especially after reading the synopsis. I personally really liked what he did with Egyptian mythology in the Kane Chronicles, that was really cool! (Hmm I'll have to read those again one of these days...) I guess I just don't want Magnus Chase to be too similar to Percy Jackson? I dunno.

What I REALLY like is how Rick is putting so many mythologies in the spotlight through a really fun and creative way! It's AWESOME that he's going with the Norse gods now, and I can't wait to get to it! I really don't know much about Norse mythology, so it'll be a good chance to get to it!

SO EXCITEDDD!!!

My hopes are high for this book, my friends!
This book comes out in October 2015 (seriously why are all the great books coming out one month AFTER my b-day?!)
Hey guys! If any one of you bloggers would like to do a Percy Jackson read-along thing with me before 2016, let me know! :D
Also, what do you think about the subject?